Skywest Airlines Plane Crashes at LAX. All 43 survived. #planecrash #crash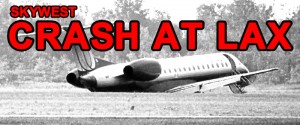 A SkyWest aircraft crash landed at Los Angeles Airport's runway 24L at 8:30 AM on Monday morning after it reported a landing gear issue. The main landing gear of the aircraft only partially deployed requiring it to land one wheel short.
In a display of courageous and skillful flying the captain managed to save all of the 43 souls on board.
In a Sky5 news video, the aircraft is seen approaching the runway and flaring (i.e. pitching nose up) to land right after which the left wing makes contact with the runway and skids as the aircraft comes to a grinding halt. Thankfully, there was no sign of fire, just a little bit of smoke from the wing grinding the asphalt.
SkyWest is a subsidiary airline of United in the USA. The plane was on a short scheduled flight from Monorail, California to LAX. It was evacuated immediately after stopping on the runway with passengers being loaded onto airport coaches.