The Editor
Having worked as a journalist at the age of 17 and thereon for various content firms, Samarth started Hybrid Content in the year 2006 to offer clients copy and content services for Marketing Collaterals, print and outdoor.
Over the years, Hybrid integrated various services into its portfolio, one of the major ones being design. Since 2006, Samarth has been instrumental in winning Hybrid some major accounts in India, both Government and Private sector.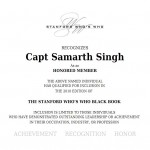 He is a Master of Business Administration – Marketing, has won several national level awards for technology, and has featured in many journals and publications as a young entrepreneur. He holds various Professional Certifications including a Brainbench certification in Web Design. Samarth has also been featured in the Stanford Who's Who Black Book of 2010. He is a Germanischer Lloyd certified internal auditor for ISO 9001:2008 standards.
In 2012, Samarth was among 10 Leading Indian Professionals to be  invited by the Spanish Government to improve business ties between India and Spain and to gain a better understanding of the Spanish business arena.
As very rightly quoted by another content website, Samarth is a pilot by passion, an entrepreneur in his dreams, a journalist by interest and a rule breaker by nature!