Hybrid Content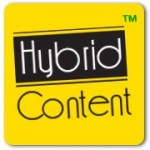 Hybrid ContentTM is a Brand Management firm based in Mumbai, India and proudly brings you Hybrid Connect! We broadly consolidate our services into Brand Identity Creation and Management which spans corporate essentials like Brochures, Websites, Business Cards, Corporate Profiles, Print Advertisements and Company Logos.
Why choose Hybrid? We are one of the very few Content Development firms that has evolved into a Content cum Design firm over the years. This ensures your product is backed with intelligent text (Search Engine Optimized where required) and sound quality all along! We want our target client to keep in mind that there are very few independent freelance content developers and designers out there with well structured quality checks and protocol.
Team wise Hybrid is very young; Our average top management age is just 25 as of 2009 which ensures fresh ideas and a swift, energetic experience. Though most of our work is done in-house, as and when the need arises, writers and designers from the developer network are sourced and hired on a part-time basis. They are put through thorough test assignments and guided by the project administrator for the entire duration of the job. You can rest assured, that Hybrid ContentTM is an ethical firm which keeps to the best principles of management process and project management. We believe business is 3D; Quality, Pricing, Schedules!