Is the real estate boom in Ulwe finished? – #realestate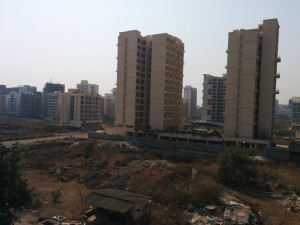 "The combination of rapid construction of buildings and lack of basic infrastructure often leads to stagnation."
Ulwe has been in the news for a few years now as a real estate haven that offers promising returns on investment over the next few years. Five of the most commonly attributed reasons for possible escalation are:
Proposed Navi Mumbai Airport
Proposed Sewri – Nhava Link
Seawoods – Ulwe Link from Palm Beach Road
The SEZ in Ulwe
Baman Dongri Railway Station which is to be connected to the Harbour Line
As someone looking to invest in Navi Mumbai, you've probably heard these reasons from every broker / builder you've come across. However, a trip down to Ulwe, which by no means is a short drive brings up some very valid points. To start with, getting to Ulwe requires you to drive, practically the entire length of Palm Beach Road which beings you to the new NMMC Headquarters with the large Indian flag. A right at the junction and another 15 minutes brings you to a huge node of development, Ulwe.
Buildings after building have been built here in the past 5 years and as of March 2015, are selling for 3500 – 5000 per square foot depending on the position of the construction. An under construction property could be picked up for peanuts, something ready to move into (which is rare) can be bought for 5000 upwards.
"Once you enter Ulwe, the first thing that strikes you is the sheer expanse of development. What also strikes you is the sheer lack of basic infrastructure like Roads, Street Lamps, Pavements, Sidewalks etc." 
One doesn't really need an expert to know that when rapid development occurs without the basic infrastructure in place, potential for stagnation develops.
Lets dissect each one of the five points in favour of Ulwe.
The airport has been rumoured to become operational 'soon' for the last 10 years. The proposed airport has lead to an entire township, 'Kharghar' to escalate leaps and bounds and now the same trick is being tried for Ulwe.
The proposed Sewri – Nhava link has had a similar story. It has been in planning for many years and only recently have we heard that the Japanese company contracted to build it has reportedly run into funding issues.
The Seawoods – Ulwe link off palm beach road is nothing but a mere shootout off Palm Beach Road which will marginally reduce the distance to Ulwe, but doesn't really make much of an impact cost wise.
The SEZ in Ulwe is more of a business friendly proposition. One can argue that the jobs it creates will lead to more people settling into Ulwe, but that brings us back to the lack of basic infrastructure. Cache 22 situation, yes?
The Baman Dongri Railway station is by far the only tangible advantage that one can assume will become operational in a year or two.
The fact is that Ulwe has been talked about for many years now but the returns it has offered are certainly not up to the mark. Investors are having a tough time trying to resell their initial investments and the Cash-Cheque components are warped in favour of the investors. Furthermore, most of the building in Ulwe are awaiting their OC (Occupancy Certificates) before which it is illegal to occupy flats / shops.
With the lack of basic amenities, no restaurants and public sanitation, one can only hope, real infrastructure catches up with the building development in Ulwe before a genuine buyer can expect to see some real return and some real quality living in Ulwe.
Lets leave you with a few pictures of Ulwe clicked in March 2015. You be the judge. Your likes, comments and shares mean a lot to this discussion.