Credit Card Over Limit Fee is nothing short of theft
So I c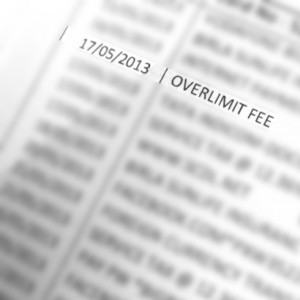 hecked my credit card statement the other day and it struck me. What is 'Over Limit Fee' and why am I being charged it? For all of us that use credit cards, we know the service comes at a steep price. The average credit card interest rate is approximately 36% per annum which is extremely expensive given that Home Loans, Car loans and Personal Loans hover between 10 and 15% per annum. Credit card debt is by far the most expensive debt one can accumulate and is extremely difficult to get rid of.
The 3 most common costs one pays while playing around with credit card debt are:
The interest payments on a monthly statement (Assuming the total due is not paid)
A late payment fee which does get reported to Credit Rating agencies (Assuming the minimum due is not paid in time)
Over Limit fee (Assuming a card goes over its predefined credit limit)
It is this third penalty that I will be discussing in this story. Say it once in your head, 'Over Limit Fee.' Do you sense an oxymoron? I am being charged a fee to go over my credit limit. Which means, if I had a $100 Credit Limit the card company does NOT extend a line of credit to me beyond $100. So if that be the case, how could I have possibly gone beyond $100? Right?
So the first time this happened to me, I called the credit card company and here's what they had to say. They say Over Limit Fee is a penalty charged to clients that have maintained a great repayment record with the bank. To avoid the inconvenience caused by a rejected transaction on account of crossing ones credit limit, the bank authorizes a payment that breaches the card credit limit. That's why we charge an over limit fee!
That's the most bizarre explanation ever. I didn't sign up for this over limit fee or the associated 'good will gesture' as the make it seem. In most cases like mine, people tend to lose track of their monthly swipes / charges. They never want to willfully exceed their credit limit and expect a transaction to get dishonored when a breach of credit limit is attempted.
I did a little bit of research online and it seems some seemingly ethical banks and credit card companies offer this service as optional. And when I say optional, I mean it is activated by default when the card is issued, it is up to the customer to deactivate this service. What's worse? Most Credit Card companies, for example in a country like India, do not offer the deactivation option. Nor do they alert you when you are performing a transaction that exceeds your credit limit. It just goes through, and bang, a day later, they slap on a 'Over Limit Fee.' That's a swell 'goodwill gesture' right?
Here's the catch. If I have a credit card with a $100 limit on it, you can rest assured they are not going to allow transactions for more than a few dollars above the $100 limit. However, the resulting over limit fee is a lot of money!
Over Limit fee is by far one of the most unethical concepts I've come across.