Maruti Suzuki A-Star goes Automatic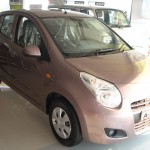 In an obvious move, Maruti Suzuki has decided to market the A-Star with an automatic gearbox given that its chief competitor, the i10 offers one. One would have expected Maruti to make this move a little earlier since the car's USP has always been its predominantly city-drive nature.
The new 4 speed automatic comes with very few shortfalls. The A-Star's K-series engine churns out a very decent 68PS with a top speed of close to 150kph, but the automatic variant makes it feel a little sluggish to cater for better economy. While the manual variant came rated at 19.2 kmpl the automatic manages around 17 kmpl which is phenomenal for an auto.
Furthermore, Maruti offers the automatic A-star in the VXi variant only. They've added ABS with EBD to the variant, but it still lacks Airbags, Fog lamps and 2 additional speakers, as against the ZXi stick.
All said and done, the VXi auto will definitely sell. More and more people in India are becoming less bothered about optimum mileage where the trade off is a better, more comfortable drive. One needs to keep in mind that at close to 5 lacs on road in Mumbai, it's well into premium hatchback territory.