Is this the end of DVDs?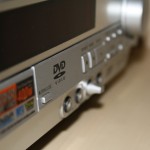 Most consumers still remember the Digital Video Disc boom wherein packing in 4.7 GB on a single disc was an amazingly difficult thing to imagine. Then came the zone issues on players, but the DVDs still found their way into homes, now affordable and well settled even in the dreaded piracy market.
Now, with DVD sales down more than 4% over the last year, analysts are slowly reconciling with the fact that this may be the end of DVD Video as a carrier of consumer video products. It seems the world of HD-DVD and BluRay offers a much more sophisticated viewing experience, albeit at premium, but with those seeking quality the extra bucks are worth it. In the west, VoD or Video on Demand services streamed directly to your computers over the web are fast becoming the preferred option. Furthermore, rips and torrents coupled with no dearth Hard Disk space has reduced the inclination to want to spend on a disc. And why not? One would rather have an unused free file on a Hard Disk than an unused dusty DVD which cost $20 once upon a time.
All in all, computer components and particularly discs have seen a fixed pattern over the years. They're launched expensive and by the end of the year, second and third rung market players manage to make them unimaginable affordable. Why would that be any different for HD-DVDs and BDs? With 720p video rips already in circulation, one won't find it surprising if DVDs are phased out sooner than expected.