Tat2Me – an interview with Ketan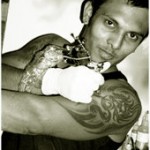 Ketan Vaidya is no novice to the fast moving world of creativity with tattoos in India. Having started in 2006 at the ripe age of 21, he's come a long way and has set up his own studio at the upmarket Lifestyle Mall in Mulund, Mumbai offering various Tattoo and Body Piercing products. We spoke to Ketan about what Tattoos mean to the urban youth and what they should look out for.
What should a tattoo signify?
In my opinion, a tattoo practically stays with you for life, so make sure its something you closely relate to. You shouldn't reach a stage where a few years down the line you end up feeling like you never got it. At Tat2Me, we make it a point to speak to our clients and guide them on the various options. We help them make an informed choice.
Is hygiene really that big a deal?
Hygiene is everything! I personally train and keep a close vigil on my artists and myself for all kinds of hygiene lapses. We make sure all our equipment is properly cleaned and sterilized. I urge all of you out there to make sure your tattoo artist is just as vigilante and careful as we are.
How do you judge quality?
Well there really isn't much you can do here. Just make sure you're gone through the artist's past work and let him explore his options with your tattoo. I've come across a lot of cases where a client is so rigid on his requirement that he's eventually not as satisfied as we had hoped he would be. Keeping an open mind and experimenting is the name of the game. Then again, never let the artist compromise on quality!
What health implications does a tattoo have?
Apart from a little bit of discomfort after getting one, none whatsoever. Do not visit a tattoo studio whilst under the influence of alcohol. Also, do mention any skin allergies to the artist prior to getting the tattoo. Eat something before visiting the studio since a tattoo may make you feel dizzy and nauseated.