Citizen Eco-Drive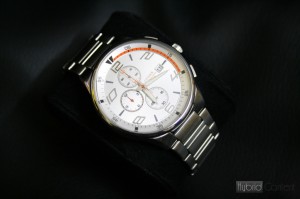 Eco-Drive by Citizen is a range of watches that sport light powered technology. Citizen, doesn't really need an introduction. Following demand, it launched the Eco-Drive series in 1995 and one has to appreciate the pure genius in this technology, so now a small science lesson.
Eco-Drive watches come with a titanium lithium-ion battery. This battery is charged through a solar cell placed just behind the front dial of the wrist watch. Being lithium-ion, the cell doesn't get affected by constant charging and discharging and caters for long life. Generally, a fully charged battery should offer from 30 days to 8 years of run-time. Here's where the genius kicks in. In the event that an Eco-Drive wrist watch is kept in the dark for too long, a hibernate mode is automatically engaged wherein the hands stop moving but the watch still maintains track of time. Thereon, as long as the wrist watch is brought within a sufficient light source, it charges again and the hands become operational. Citizen Eco-Drive wrist watches sport a 6 month power backup.
In short these new Eco-Drive watches will never need to have the battery replaced. Now all this technology is available in a wide variety of styles and colors, so you can make your own statement. What's more, Citizen states that the lubricants used for their watches ensure that timepiece movements remain smooth for a long time as the oil does not harden even after 20 years.
Do we need to say more… If you like gadgets and also like watches, and want something hi-tech and eco friendly for life…you have to get one of the Eco-Drive watches from Citizen.