India After The Ayodhya Verdict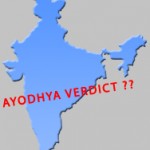 Despite the fast growth of modern India, the nation lives in an era of medievalism in many ways. A majority of the masses are still unable to break age old shackles of an aggressive past raised around religious conflicts. A day after the Ayodhya Verdict was announced by the Allahabad High Court, India remained quiet with no major outbreaks reported in any state. However, the judgment that the 2.77 acre disputed land in Ayodhya be divided into three parts among Hindus and Muslims, with two-thirds conferred to Hindus, still revives fears of a new clash between the two communities.
In the year 1992, Babri Masjid was demolished by the Hindus, spurring riots that resulted in the loss of more than 2000 lives. Since then, Muslims wanted the resurrection of the mosque while the Hindu groups demanded to rebuild the ancient temple that they claim once stood there.
The court verdict failed to please either religious group. The Muslim groups are not satisfied with a third of the land, there are plans for further appeal in the Supreme Court. Political parties are stepping in to find loopholes to aggravate the tension. Mayawati, the Chief Minister of Uttar Pradesh had attacked the Centre for not granting adequate paramilitary forces to handle situation in the aftermath of the verdict, though the state has over 1000 jawans of the Rapid Action Force and over 5000 security personnel appointed by the Central Government.
New Delhi has serious concerns over the fact that India has numerous sacred places built over the ruins of ancient relics. It would be alarming if ancient histories trigger further communal clashes. Such issues will pose a threat to national peace until the country learns to embrace secularism.
On a very different note, India can learn a lot from the US presidential elections, wherein 2 contenders face each other in the thick of competition, battle it out while never losing their calm or self respect and at the end of it all the winner offers to appoint the conceder to a post in his cabinet. That's open mindedness, that's maturity, that's human nature at its best!
Perhaps, the Ayodhya Verdict should be accepted by all concerned parties to cease further strife.