Corporate Calendars & Diaries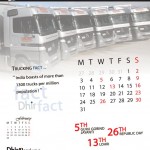 Our corporate calendar and diary printing services allow you to get your client's attention all year long! Regardless of what time of the year or quantity of order, Hybrid Content Pvt. Ltd. sports a large variety of branded and made-to-order diaries and fully customisable wall and desk calendars.
Call us on +91 8779102265 for your next diary and calendar printing order!